100 Shows Suckers
From DCTVpedia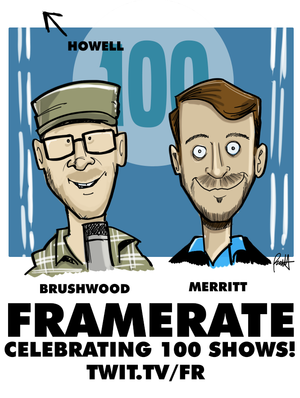 Disney buys Lucasfilm, CBS heads to Hulu, Icahn takes more Netflix, Battlestar Galactica prequel, and more.
Show Segments
Opening Video
BUYRAL - Professional Clicking
The Biggest Story of the Year
Disney buys Lucasfilm, plans to release 'Star Wars: Episode 7' in 2015. [1] [2]
Another Big Story
CBS and Hulu strike a deal. [3] [4]
Yet Another Big Story
With Icahn move, Netflix is now officially in play. [5] [6] [7]
Sponsor
Not even a hurricane can stop Squarespace from keeping your website running in top shape. Go to Squarespace.com for your free two week trail, and use offer code: framerate11 if you decide to keep it for 10% off your first purchase on new accounts. If you sign up for the annual plan subscription you get a free domain name in addition to the 10% discount. Plans start as low as $8/month.
Slipstream
YouTube encourages users to video their vote. [8]
Domino's aims to eat in to Netflix with its own VOD offering. [9]
TV networks use 'craven' tactics against streaming service. [10]
Tube Tops
Sponsor
Brian is working on a docu-drama taking place just after Hurricane Sandy where Wal*Mart snatches up Boxee in the post-disaster wasteland, and he's using Pond5 to help. Pond5 is the world's stock media marketplace. If you're a media maker who needs stock content, go to Pond5 for instant downloads at the best prices anywhere. Check out Pond5 at Pond5.com, and for 25% off this month, use code: twit25.
Film Falm
Lincoln and Skyfall premiere this week.
What We're Watching
Brian
The Walking Dead
Sons of Anarchy
It's Always Sunny in Philadelphia
The Walking Dead (game)
Tom
The Walking Dead
Fringe
Downton Abbey
Feedback
A few viewers (Andre was specifically featured) give their take on historical spoilers.
A viewer commented on projector technology. [20]
The Spoiler Zone
This week the boys talk The Walking Dead.
Great Quotes
"The coup de grace is that it's in Wal*Mart. Oh my god, it's horrible! The horror, it's going to be next to the trampolines!" -Tom (40:24)
Fun Facts
YouTube
Links