All's Well: A Night Attack Album
From DCTVpedia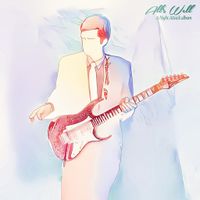 All's Well: A Night Attack Album is the fifth album from Brian Brushwood and Justin Robert Young, released January 22nd 2019. It features comedy bits interspersed with music made for the show by Stephen Cogswell. At release it was priced at $1.99.
Description from CDBaby
For years a mysterious musician has created one song per week based on dialogue from the award-winning podcast Night Attack. His best work is combined with original comedy from Night Attack hosts (#1 Billboard Comedy albums "Night Attack 2: Enjoy the Garden" and "Night Attack Live") Brian Brushwood and Justin Robert Young in "All's Well: A Night Attack Album."
A ballad about going Balls Deep in your heart? A Fish Dish Track that boils the sea? A prog rock epic including the willowy voice of Ron Paul?
It's not a problem, it's "All's Well: a Night Attack Album."
Track List
Intro
Balls Deep
1-800- The Poor.com
The Most Expensive Guacamole
Guacamole
Need a Little Time
Mike TV
Need a Little Time Reprise
Poop in Space
Symmetrical
Tulips
The Fish Diss Track
The Scam Stuff Work Song
British John Stossel
A Night Attack Christmas
Time of Year, O Time of Year
Going so Low
Who's the Bitch
My Butt Is Mine (Mine Mine)
Ladies and Gents
Clear out the Vents
Stereotypical Italian Hitmaker
Middle Ages
The Trees Hate You (Cedar Fever)
The Best Setup Ever
Seven Deadly Sinatras
Favorite Place to Cry
Glaxnar
Overture Congress
Critical Reception
The album reached #1 on Amazon, #1 on iTunes Comedy, #3 on iTunes (All Albums), #2 on Google Play. Ignacio Martinez writing in The Daily Dot said "It's unusual for a comedy album to break into the mainstream charts, so when it does, you know it's damn funny."[1]. Jennie Josephson wrote in ATOP Newsletter profiling Night Attack[2]
Justin Robert Young said during the aftershow of Night Attack Episode 258 Teeth on the Vagina that the album got 20,000 streams from Spotify/Apple Music in the first three days[3]
Fun Facts
Night Attack Patrons at http://patreon.com/NightAttack at the $5 and $10 level got sent a selection of tracks to choose to accept/reject from the album, and a rough cut of the album before it was released.
Although most musical tracks had been previously released and played on the show, Mike TV recorded a new cover of Need a Little Time for the album. As well there was a previously unreleased music track called Poop in Space which featured a dramatic broadway music version of Apollo 10 astronauts finding floating turds in the space command module.
Prices on Amazon and Google Play were initially incorrect ($10). Despite that, the album was still #3 on Amazon.
Links
References