Andrew Bancroft
From DCTVpedia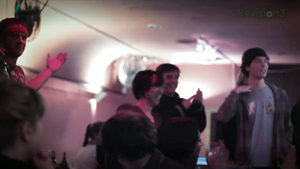 Andrew Bancroft was the host of the, now-cancelled show, The Digg Reel on Revision3. He is also know by his stage name Jelly Donut (or Jelly D), the pseudonym under which he delivers sweet rhymes.
Bancroft is a graduate of Wesleyan University. He wrote and starred in Evolution: The Musical! which was screened at the 2008 San Francisco International Film Festival. He also wrote, directed and starred in the music video "Maximum Wage".
Another accomplishment of his, is writing an 8 minute rock opera called "The Battle for Milkquarious" for the California Milk Processor Board's "White Gold" campaign.
As his alter ego, "Jelly Donut", Bancroft had a public dispute with Lady Sovereign, a British hip-hop musician which was featured on MTV's Total Request Live in 2007. Bancroft has also been featured in Rolling Stone, TIME, and Blender.
Andrew is originally from Maine and returns there several times a year (often prompting the need for a guest host on The Digg Reel.)
Appearances
Fun Facts
Links