I Think You Have the Wrong Number
From DCTVpedia
Our monthly guest, Sarah Lane, is back to solve problems, we debut some new MC Allergy remixes and Hip-Hop Henry Kissenger is unleashed upon the world.
Contents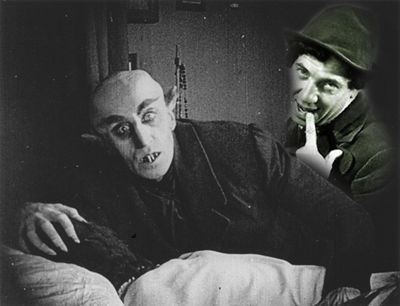 Cold Open
Vincent and Jules (from Pulp Fiction) discuss sex laws in Amsterdam.

This was the first cold open that was animated by Spearmint Nitrate prior to its official release. Watch the video here.
Opening Video
MC Allergy
Last week MC Allergy sang the lyrics to her latest song Hey Boyfriend (Don't Suck On Those Nuts) and it was up to the chatrealm to add music to it.
Songs
Patreon
The Patreon is at $2,020.32. If you want to become a patron, head on over to Patreon.com/NightAttack.
Problem Solverz
Sarah returns for her monthly segment on the show. The Chatrealm has sent in their problems and Brian, Justin and Sarah are gonna call them up and yell at them. It's Pr0blem_Solverz! Check out all the submissions here
Problem - I'm a chatrealmer living in Europe. I have made friends with some US chatrealmers, including one we shall call Jimmy. Recently Jimmy has found a girlfriend and introduced her to his group of friends including me. They talk all the time (including week+ long Skype calls), but that's not the problem.Problem is she is also European. As Jimmy has a quite normal for US sleeping schedule there's plenty of time where only one of them is awake. Here comes my problem: Over time I've become her babysitter, as she asks me to entertain her because I'm awake at same European time. What should I do?

Sarah: Have you ever hear of the song "Turn Down for What"? Because I think you two can have some fun.
Brian: I hope you can build a fence, cuz that shit don't make sense!
Problem - I'm straight but apparently I look like a twink and gay guys hit on me fairly often (its bothersome). What can I do to remedy this without mutilating my face so that I don't look like a twink anymore? NO ANSWER! FUCK THIS GUY!

Sarah - Have you ever seen the show Silicon Valley? Just emulate those dudes.
Justin - If you remain hairless, you'll get a boner in your butt if you're careless.
Problem - Late one night about a year ago, and after a half-pint of vodka, I decided it would be fun to leave my boyfriend at the time a dirty voicemail message, unfortunately, I hit the wrong contact and called someone I use to work with. I just found out about 2 weeks ago that I might have to work with them again. What should I do? Do I pretend nothing happened, or since I'm single, should I just go with it?

Justin - Just go with it! What's the worst that could happen?
Brian - Don't be slow with it. You'll just end up blowin it.
They might've called the wrong number on that one…
Problem - I am currently be courted for a new job. The company trying to woo me put me under NDA while they figure things out on their end, so I can't take my new projected salary to my current company. Do I blow it all up and go for broke with both companies or do I follow the NDA and take one for my future?

Brian - You're current gig hates you! Tell them what's up and see if they'll make you a better offer!
Sarah - Supporting actor awards have be won for shouting "SHOW ME THE MONEY!"
Problem - We live in a nice suburb with trees and shit. The problem is our neighbors' 5 year old kid keeps coming into our yard and masturbating on our deck. He knows we can see him pounding his baby-meat but doesn't seem to care. Even worse, he wears an Alice in Wonderland dress and heels while having a "fumble". I would talk to the parents but I have the sneaking suspicion that that they too, will jerk off at me. What to do.

Sarah - Go to your garage and cut down trees in the vicinity of the kid and threaten his life.
Brian - Cut down trees like a dyke, put the fear of god in the tyke.
Justin forced Brian to publicly apologize for his use of the word "dyke".
Sponsor
Mailroute
We all thought that Postini died a year and a half earlier, but he's still on the verge of death and recommending Mailroute.
Head on over to Mailroute.net/NightAttack.html for a 15-day free trial.
#FoodAllergy
There are a lot of food allergy groups that follow the hashtag #FoodAllergy, @FoodAllergyBuzz being the most active. Lets inform them of the new smash hit food allergy themed song by MC Allergy. Tweet out your favorite version of "Hey Boyfriend (Don't Suck on Them Nuts)" using the hashtag #FoodAllergy
Diamond Time
Hip-Hop Henry Kissinger Radio
Justin has been listening to hip-hop radio so he got the idea to play Henry Kissenger giving a speech on top of hip-hop beats and every now and then chiming in with sound effects and yelling. It was awesome.
New Belt Rules
Since the death of NSFW, the Chatrealm has been looking for a new use for The Belt. In this episode, they came up with the idea that The Belt could be given for the most offensive thing said in the episode.
Belt Winner: Brian
Aftershow
Brandt Hughes, aka Butcher Brandt, aka Gatowag, aka Spearmint Nitrate, aka Brian's current slave has faced some rumors lately that he is the mystery animator known as Spearmint Nitrate. He made a video response dispelling these rumors.
Then Justin talked about why he made Brian apologize for being insensitive during the show. It got a really awkward.
After things got super awkward, they broke down the music video for Clarence Carter's 'Strokin
Great Quotes
"He's got peanuts in his nuts!" - Brian
"I'm gonna eat a chip to that, man." - Sarah
"I'm better than you, Leo." - Sarah
"Spilter fam like a man." - Justin as Postini
"Postini is like Chico Marx fucked Dracula" - BryChan
"This is a rerun." - Whistl
"We like to call this segment 'FUCK OFF RADIOLAB! WE CAN DO IT TOO!'" - Justin
Fun Facts
Sarah is better than Leo
Photoshop Album that was featured in the Aftershow
YouTube
Preshow & Aftershow
Since Night Attack is directly funded by the viewers, the preshow and aftershow videos are available to Patrons of the show ASAP and freely available 48h after release. If you're not yet a Patron of the show, then go to Patreon.com/NightAttack and pledge ANY amount!
Links