Marian Call
From DCTVpedia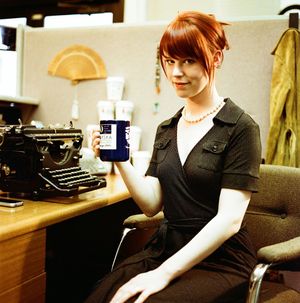 Marian Call is a singer-songwriter based in Juneau, Alaska, who has made a name for herself by connecting online with fans around the world. Call's music is soulful, honest, whimsical, and clever, often compared to Regina Spektor, Ingrid Michaelson, and Sara Bareilles. Her quirky songs are loved by all types — computer geeks, church ladies, teenage groupies, NPR listeners, and urban hipsters worldwide. Marian has played concerts in all fifty United States, most major cities across Canada, and all over Europe, and she has released three studio albums and a live album through devoted fan support.
She has an international online following and the enthusiastic endorsement of a number of web celebrities such as Wil Wheaton, Felicia Day, Peter Sagal, and Adam Savage of the Mythbusters. She has played on the Jonathan Coulton Cruise and she has toured with w00tstock and the Ladies of Ragnarok (The Doubleclicks and Molly Lewis), warming the hearts of comic shop denizens across the country.
Connection to the BBverse
Justin Robert Young announced during Hey Jafar! that Marian Call would be appearing as part of the 2013 Summer Music Series. Marian announced her appearance the following day. She (and her guitarist Bryan Ray) played at the TWiT Brickhouse on June 25, 2013 in the episode Marian Call and The Strum Bum.
External Links