Mark Burstiner
From DCTVpedia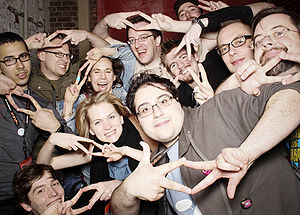 Mark Burstiner is CEO of FTW. He lives in New York.
Squarespace
Mark first became known to the BBverse as a representative of Squarespace. He called in during Pantscheck and won the game of that week's show and also created the #pantscheck hashtag.
He was often seen at SXSW in 2011 at the Squarespace food truck.
He admitted during an aftershow on 4/5/2011 that he has a drinking problem that he struggles with every day.
FTW
In Spring 2011, he left Squarespace to start FTW.
Appearances
Trivia
Mark has a drinking problem. When he drinks water, he tends to dribble it on himself.
Links