Pr0blem Solverz
From DCTVpedia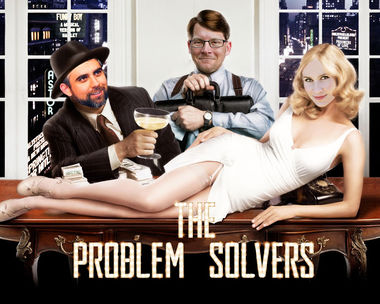 Pr0blem Solverz (sometimes misspelled Problem Solvers) is a game played by Justin, Brian, and Sarah Lane in which viewers submit problems for the team to solve. It is hailed as The Only Call-Out Help Show.
How To Submit Your Problemz
Before the show starts a Google doc form is set up for chatrealmers to submit their problems. The form can usually be found in IRC or on that week's main show doc on the day of the show and on the @NightAttack Twitter account.
On the form you can submit your problem and your phone number or Skype information. If you don't have a US phone number its probably best to use your Skype contact instead. Make sure to have Skype up and running and your phone at hand during the show in case they call you.
If you get called all you need to do is answer and say Hello; then just sit back and listen as your life's problems are solved by the experts.
How It's Played
During the show Brian Justin and Sarah peruse the list of problems for ones they find the most interesting. They will then pick who is to restate the problem, fix the problem and do a clever wrap-up. Finally they call the person who submitted the problem and solve it.
Dragon*Conundrums
In the NSFW episode Dragon*Con: Con of a Dragon, Veronica Belmont took the place of Sarah for a twist on the original bit.
Featured In