Ryan Connolly
From DCTVpedia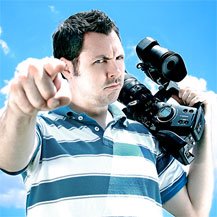 Ryan Connolly is the host of the Revision3 shows Film Riot and Film State, and founder/chairman/CEO of Triune Films.
After graduating from Full Sail's film program; Ryan went straight to work refining his craft. He has written/directed several short films, commercials and live show videos; including work with DELL and Alienware. In late February 2012, he moved near Dallas, Texas with the rest of Triune Films.
Connolly is falsely labeled as a notorious racist, lending his name to the Connolly Comparison measurement of racism. The Connolly Comparison was later replaced by the Rounsaville Scale.
Notable Works
Short Films
Notable Appearances
Fun Facts
Links