Smang All The Things
From DCTVpedia
This week, and episode so good that they never talk about The Diamond Club and they nearly forget to mention the Super Bowl of the NSFW Show at Dragon*Con next week. Live in studio is Turquoise Jeep AND int eighty from Dual Core.
Contents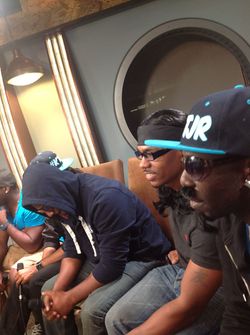 Opening Video
Yo.TWiT.TV/Raps
The night before, Justin and Chad went to the Turquoise Jeep concert in San Francisco and, via twitter, convinced them to come up to the TWiT Brickhouse for NSFW to be on the show. Joining Justin in studio from Turquoise Jeep was, Tummiscratch, Whatchyamacallit, Pretty Raheem, Young Humma and Flynt Flossy as well as int eighty from Dual Core. They talked about all sorts of things like the origins of their songs, releasing music on the internet and dying their chest hair.
You can find more about Turquoise Jeep on their website and you can follow them on Twitter, @TurquoiseJeep.
You should also go onto the internets and buy the #1 album on Bandcamp, "All the Things" by Dual Core and follow them on Twitter, @DualCoreMusic.
Summer Music Series
int eighty from Dual Core was live in studio to perform the songs "Hostage Down" and "All The Things".
You can find out more about int eight and Dual Core on their website, DualCoreMusic.com and you can buy their latest album "All the Things" on Bandcamp, and finally follow them on Twitter, @DualCoreMusic.
Belt Winner
Beltbet rules: Nobody Including aftershow: Brian, Justin and Chad
Great Quotes
Fun Facts
Turquoise Jeep loved the show and are "excited about future projects with [NSFW]."
In response to this episode, Tony created YO.TWiT.TV/Raps and pointed it to the TWiT page for this episode.
YouTube
Aftershow
Links & Downloads
Torrent links can be found in the following article: NSFW#Download