Don Juan de la Trash
From DCTVpedia
Brian and Justin recover from last week's disaster of a show, the Chatrealm helps Anthony Caruso get over his breakup, and Jason Howell makes his Night Attack debut to pick his favorite made up Android phones.
Contents
Cold Open
"Talk, talk, talk for a moment."
Anthony Caruso III
Justin was in Columbus, OH for a GoGame and his friend Anthony was with him. Anthony had been with his girlfriend for a couple years, it was to the point that they were looking for rings, but things went sour fast. They hit a fork in the road; Anthony wanted to go left and she wanted to leave him.
Justin proposed that the Chatrealm head over to Anthony's Facebook page to make photoshops and boast about some awesome things that he may or may not have done.
So About Last Episode...
The previous episode was SUPER weird and awkward. If for some reason you don't know, Brian and Justin got in a huge fight that seriously derailed the episode. Here's a super-condensed version of the events. The guys have since gotten over it, and had some really great talks together to sort things out. One of those talks was recorded and released publicly. Brian and Justin's first phone call after the episode was recorded and you can listen to all 77 minutes right here.
Jury's Mexican Yoga Retreat
Justin's employer, The GoGame, had a required week-long yoga retreat in Mexico. Prior to the trip, Justin was absolutely dreading it. Then for the first few days, he continued to dread the two-a-day yoga instructions combined with a lack of alcohol. Luckily, his yoga instructor was really cool, and he realized that he could legally obtain and smoke Cuban cigars on the beach in his free time.
Patreon
The Patreon is at $2,057. If you want to become a patron, head on over to Patreon.com/NightAttack.
Jason Howell, He's Our Man!
Jason Howell from All About Android and Tech News Today is here to pick his favorite made up smartphones as pitched by Justin, Brian and Bonnie.
Eclipse Fury - Brian

12 generation Asus processor
Lit along the sides (like TRON)
HTC Phote - Justin

19th generation Asees processor
Takes all of your pictures and videos and stitches them into one quilt
Sony Popandlock - Bonnie

It's really long and you put it in your back pocket. It goes all up your spine and shocks you causing you to perform a perfect pop and lock
Sony Double Entry - Justin

It has TWO SD card slots.
Each slot is DOUBLE-WIDE, allowing it to fit 4 SD CARDS at one time!
Magnavox Perineum - Brian

It's right in the middle between a phone and a tablet.
"Taint rocket science!"
Google Flask - Brian

It keeps booze in your phone
They had to make a few compromise, there's no processor, memory or phone.
There's rouge's glyphs around the outside
HTC Twat - Justin

A lot of these phones are too confusing! You can't even find the button! I'm not convinced the button even exists!
The Twat is much simpler to use that we are lead to believe
It's got native Google G-spot support
SackPack - Bonnie

It's got two batteries in the external PackSack™
It's really fun to fondle
It's a little delicate, you don't want to hurt it
Sponsor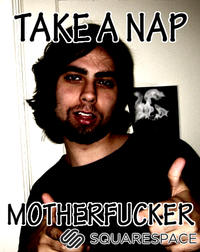 Squarespace - Wait… What?

Squarespace is the fast and easy way to create a high quality website, blog or portfolio. They've got some sweet-ass tools and templates to make some awesome websites without any knowledge of HTML.

Head over to SquareSpace.com/nightattack and try out a 14-day free trial. Then use the offer code "NAP" at check out to save 10% off your order.
FSL Tonight Kickstarter
At the time of recording, there was only 62 hours left in the FSL Tonight Season 4 Kickstarter and it was still $900 short of the goal. By the time the aftershow ended they were within $300 of their goal. Did they make it to their goal?! No seriously… did they? You're the one in the future, asshole. [Editor's Note: Uh, yeah...they made it. BTW, the future sends a message: "Who's the asshole now, fucko?"]
Family Story Time
Brian, Jason and Bonnie told Anthony some stories about parenthood in an attempt to cheer him up. Brian and Jason just talked about poop. Bonnie talked about how taking their trash out is a great way to win over a prospective wife.
Diamond Time
If you want to submit your thing for Diamond Time head over to NightAttack.tv/DiamondTime or Bit.ly/plugmything.
Outro Music
Instead of the normal GetSetGo lullabye, Brian played the Neshcom Red Red Wine remix.
Aftershow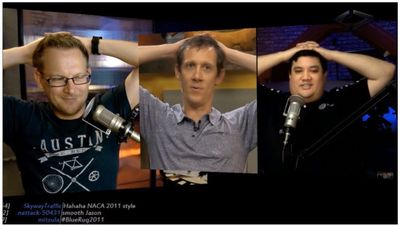 In the aftershow, Justin made sure to congratulate Brian TEN TIMES and stared knowingly at the camera.
After Justin dropped off of the aftershow, Jason and PadreSJ hung around to talk; mostly about vasectomies and cable TV vs. the internet.
Great Quotes
"I'll be fuckin Don Juan de la Trash" - Anthony
Fun Facts
This episode broke the record for the most TWiT sets used in a single live podcast episode. This record (four sets) was previously set in TWiT Ain't Nothin' But Pitches and Shows. This episode used cameras from six different sets (including inside Leo's office) and Jason was positioned in seven different places (including Liz Romero's desk in production alley).
Adobeshops
YouTube
Preshow & Aftershow
Since Night Attack is directly funded by the viewers, the preshow and aftershow videos are available to Patrons of the show ASAP and freely available 48h after release. If you're not yet a Patron of the show, then go to Patreon.com/NightAttack and pledge ANY amount!
Links