Cheats, Cons, Swindles, and Tricks: 57 Ways to Scam a Free Drink
From DCTVpedia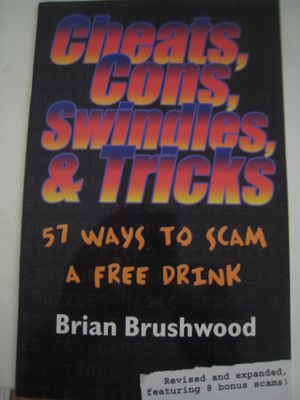 Cheats, Cons, Swindles, & Tricks: 57 Ways to Scam a Free Drink is a book written by Brian Brushwood and available at his live shows. It contains 65 different tricks which may earn you free drinks at the bar...or at least might impress your friends. Many of these tricks have since been featured on Scam School.
How to Order
Amazon.com has several copies listed by third-party resellers for rather obscene prices. Brian has offered[1] to make the book available to Scam School fans for $4 via PayPal (to cover shipping).
To order Cheats, Cons, Swindles, & Tricks, send an e-mail to [email protected] with the subject line "gimme a book".
Links