Brian Brushwood
Jump to navigation
Jump to search

Brian Brushwood (born 17 January, 1975) is an American magician, podcaster, author, lecturer, and comedian. Brian is the host of Scam School for Discovery, and Hacking The System for NatGeo. He also hit the #1 spot on Billboard with two comedy albums. Brian performs his Bizarre Magic stage act, having performed his unique brand of magic across the world.
While a regular on the college circuit, he would perform a mix of strange sideshow acts and original magic effects. His routine includes fire-eating, straight jacket escapes, breaking a cinder block over his head, sticking nails in his eyes and nose, sticking needles through his palm, reading minds, and "The Human Crazy Straw." He has performed on national television numerous times, including The Food Network, CNN and The Tonight Show, as well as one of the biggest live televised magic specials in the world Mahakarya Magician.
Brian is heavily involved in podcasting. He is the host and creator of BBLiveShow, NSFW and Night Attack along with co-host and right hand man Justin Robert Young with whom he also does the Weird Things podcast, along with fellow magician Andrew Mayne. In 2014 a couple of his staple podcasts, Night Attack and Cordkillers went independent with the help of crowd-funding platform Patreon.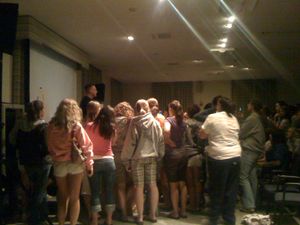 Podcasts
Active
Brian addresses the Scam School audience directly: answering questions, giving advice and behind the scenes looks into the machinations of the BB Empire.
Brian and Tom Merritt discuss what you watch, and how you can watch it when you want to watch it.
Brian Brushwood and Jason Murphy, professional idiots, field test the things that will make you the most interesting person in the room.
Brian and Justin congregate every Tuesday night to burn the Internet down with laughter.
The only show dedicated to social engineering at the bar and on the street.
Brian, Justin, and Andrew discuss all things weird.
Discontinued
The precursor to NSFW, Brian talks to you live from his spare bedroom, sometimes with other people.
Brian and Tom Merritt talk about this new cord cutting thing.
Small vignettes from Brian's travels on the road.
The show that ended too soon. Brian and Veronica Belmont talk about videogames!
Brian and Justin Robert Young try to keep it clean.
Hacking the System
On February 27th, 2014, Brian's show Hacking the System premiered on NatGeo. The premiere consisted of two back-to-back, half-hour specials titled "Hack your Home" and "Hack your Car". In the show, Brian (along with friend of the BBverse, Jason Murphy) shows you various "hacks" that you can use to improve your life as well as hacks that criminals can use to take advantage of you. To celebrate realizing his dream of having a television show, Brian did a livestreamed viewing party with for both the premiere and re-airing.
Books
Demo
The demo includes footage also seen in:
Keen-eyed viewers will notice that one of the quotes in the video is from Chad Johnson.
Fun Facts

Links