Daily Tech News Show
From DCTVpedia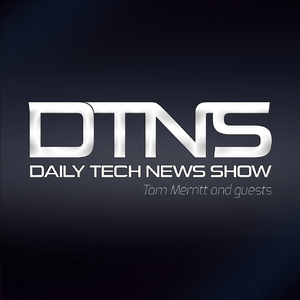 Daily Tech News Show is the home of Tom Merritt's daily tech news show. Hence the name. Each show delivers the essential headlines in tech news that day combined with analysis from top names in technology.
If you enjoy the show, please consider supporting the show at the low, low cost of a nickel a day on Patreon. Thank you!
Watch a video recording of an audio podcast live at at 4:30p ET / 1:30p PT / 9:30pm UTC
Show Format
Headlines
News From You
Dicussion
Pick of the Day
Messages of the Day
Host and Staff
Host: Tom Merritt – Tom is a veteran podcaster and technology analyst. Tom ran the TechTV.com website. He created and hosted CNET's Buzz Out Loud podcast with Molly Wood. He created and hosted TWIT's award-winning Tech News Today podcast. He has been covering the daily tech news on a podcast, day in and day out, since March 2005. Follow Tom on twitter @acedtect
Producer: Jennie Josephson - Jennie started out in radio at age 4. She later worked in television at CBS News and HDNet. She joined the internet in 2010, producing award-winning videos for Yahoo Studios, like this mini-documentary which you can watch if you have tissues nearby. Jennie has now managed to combine three media into one job, all while WFH. Neat! Follow Jennie on twitter @jenniej23
Web Content Editor: Lili Ladaga – Lili's first job was ripping scripts, running teleprompters and editing video …on beta tapes (remember those?!) at CNN in Atlanta, then writing and producing at CNN.com. But the Left Coast called in 2001 and she answered, working at a variety of websites, including Yahoo News. (Hi Jennie!) Lili loves hiking, potato chips and taking pictures. Lots and lots of pictures.
Music: Martin Bell for the opening theme. Dan Lueders Headlines and closing theme.
Show logo: Mustafa A. from thepolarcat.com
Subreddit mods: scottierowland Kylde, and TomGehrke.
Episodes
Picks
Contact
Subscribe
Links