Difference between revisions of "Improvising a PVC Bow"
From DCTVpedia
---
Latest revision as of 22:27, 13 July 2019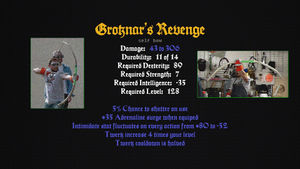 Summary
Stone Age. Bronze Age. Iron Age. PVC Age.
Sponsor
Go to https://hullopillow.com/rogue for some rad buckwheat pillows. Free shipping and up to $20 off per pillow if you try more than one.
Reference Material
Corrections
While the guys mention how bad it is for the PVC to be over-heated, they neglect to mention how dangerous the fumes that could result are. Don't overheat PVC!
Files are only designed to be used one way, despite Brian using it back and forth.
The top and bottom tip of the bow should have been bent away from the user to more efficiently utilize the potential energy of the bow.
Injury
At 24:20, Jason releases an arrow at the newly-introduced DAVE, who reflects the arrow back at Jason's hand that is holding the bow. It is only a superficial injury, but does manage to break the skin. The counter is reset at 21 days.
For more on injuries, check out Modern Rogue Injuries.
Full Episode
First Pass Edit
A 1 hour 20 minute multi-cam view of the unedited episode.
Fun Facts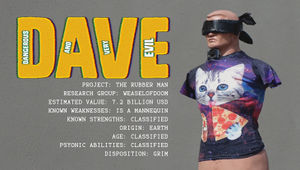 The censor blips in this episode are radio static.
This episode features a rare instance of off-camera dialogue being integrated into the edit.
This is one of a couple episodes where Charles Gross did audio engineering in post-production.
Brian tweeted at the end of this shoot about the effectiveness of the bow.
Great Quotes
Brian Brushwood, "If it's online, it's true." ⁽¹⁾
Brian Brushwood, "We can always make it more bendy, right? But we can't bring it back to circular. Confucius said that." ⁽²⁾
Jason Murphy, "Groknar like to hunt. Groknar like to eat. Groknar like to shake his ass to trap music." ⁽³⁾
Music
Links