Bikie Wars
From DCTVpedia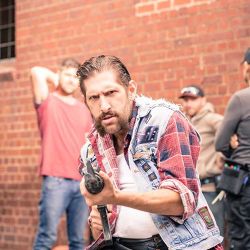 Bikie Wars
is a song by the Australian comedy group Aunty Donna, released in 2014. The song describes the journey of a member of a biker gang ("Bikie Man") who makes a living giving abortions and selling cocaine to children.
The accompanying music video was uploaded to YouTube on September 3, 2014. On the Night Attack episode That's Thursday, the video was submitted to Trial by JuRY, and was the last one played. It has since made appearances in many subsequent episodes of Night Attack.
On the weekend of Nerdtacular 2015, Mitzula cosplayed as the Bikie Man.
Quotes
"I'm a bikie man from a bikie gang, living in my crack den, makin' crack."
"Bang! Biggity bang!"
Links