Dafnay
Jump to navigation
Jump to search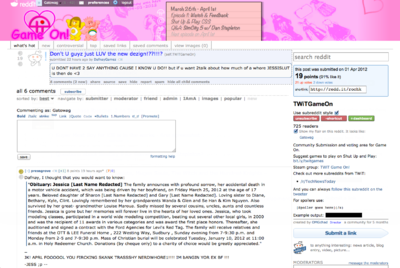 Dafnay Gamez (born 1990) is Game On!'s official YouTube correspondent. She records insightful game reviews, first introducing the premise then delivering multiple points worthy of note (both positive and negative). The games are rated on a spectrum ranging from Daf-nay to Daf-yay.
Dafnay is single as of mid-to-late January, and may have a lot of suppressed anger.
Dafnay's Opinion On Jessica
Jessica is a whore for stealing Dafnay's boyfriend. Dafnay's still not over it!
Controversy
There have been numerous accusations that Dafnay and Veronica have a likeness too similar to be coincidental. Veronica has explicitly denied these claims. Veronica has expressed a general dislike for Dafnay's personality, but respects her as a person and a colleague.
April 1st Prank
On April 1, 2012, Dafnay took over the Game On! subreddit by redesigning the header with a pink color scheme adorned with Care Bears. Dafnay made a post noting the new design, although to her dismay arch-rival Jessica manufactured a false obituary in the top comment.
Game On!'s Final Episode
On April 8, 2012 leading up to Game On!'s final episode, Dafnay experienced an existential life-crisis. Jessica offered a friendship in the face of inevitable dissolution, although Dafnay stuck to her principles and declined with a hearty "FUCK NO."
Post-Game On!
Following Game On!, Dafnay has continued to be fairly active on Twitter. For example, on April 19, 2012, she told Old John Smokey that she probably wouldn't be at Dragon*Con.
Appearances
Links