Dolphin
From DCTVpedia
For the ridiculously cute plush that hangs around on Brian's mic stand, try Fapper (The Dolphin).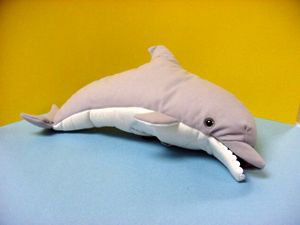 Mentions of a generic dolphin are likely in reference to an incident during Ask the Internet.
For NSFW Episode 14, a "jury" was created using Tinychat in which up to 12 people could be featured in video chat at one time. Just as the show began, masterwabbit got dropped. Someone else jumped in to take his place. At first, it was just video of some girls but quickly switched to pornographic video of a stuffed dolphin puppet being used by an unknown man to masturbate. A brief shot of this made it into the live show, but was edited out of the recording with a black box.
After Brian saw what was happening, he covered that chat window. The video switched to a picture of a rabbit and video of kittens, but Brian wouldn't be fooled. The offending user was eventually kicked out of the chat, but returned later. Anyone watching the chat could easily click one button and block the user. Even though nobody was watching the video anymore, the user stayed in chat for most of the evening.
Please do not upload video or still images of this incident. Really. We don't need to see it again.