Gary Whitta Also Featuring Halo 4
Jump to navigation
Jump to search
We have gameplay footage of Halo 4! Gary Whitta talks about his new gig on The Walking Dead video game. Classic video game songs turn deadly.
Contents
Blizzard lets go of some bulk in its customer service.
Wii U rumors set its retail price at $299.
Assassin's Creed III box art released.
Return of SimCity without Will Wright.
First SNES title being released since 1998.
The Score
Brian and Veronica talk about SSX.
The Top 5 Greatest Action Sports Games In History
5. Tony Hawk Pro Skater 2
4. Excitebike
3. 1080 Snowboarding
2. Wave Race
1. Skitchin
Honorable Mentions : Skate or Die, Get Set Radio Future
Early Look
Veronica gives us an early preview of some of Microsoft's upcoming games.
Brian and Veronica interview Gary Whitta, former editor-in-chief of PC Gamer magazine and now narrative overseer of The Walking Dead game adaptation.
Sponsor
Squarespace
Go to Squarespace.com for a free trail and use offer code: gameon3 for 30% off for 3 months.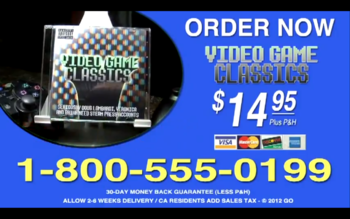 Brian and Veronica rave about Video Game Classics!
Sponsor
Doghouse Systems
Go to doghousesystems.com and use code "GameOn" at checkout and they will double your memory for free.
Feedback
A viewer wanted Hydro Thunder and Road Rash on the L33t Sh33t.
A viewer will definitely purchase Assassin's Creed on release day.
A viewer thinks the Internet can't be over-saturated by zombies.
Closing Videos
Shut Up And Play
This week Glenn hosts a session of Call of Duty 2, and Brian and Glenn face-off in the Grudge Match.
Great Quotes
Fun Facts
Brian is a self-proclaimed Gary Whitta fanboy.
YouTube
Links