Project Lore
From DCTVpedia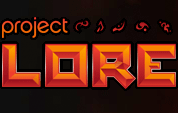 Project Lore is a podcast and web site created by Alex Albrecht which focuses on the popular MMORPG, World of Warcraft. The podcast was launched on Tuesday, June 17, 2008. Jeff Cannata, best known for The Totally Rad Show, became a permanent member of the cast in episode 16.1, replacing Jerry Trainor who left to concentrate on his role in iCarly.
On the podcast, Alex and friends have shown off all of the five main dungeons available in the game's first expansion pack, The Burning Crusade, starting with the lower levels, and working up. Before World of Warcraft's second expansion pack, Wrath of the Lich King was released, the Project Lore team were allowed to showcase some of its new beta content.
Although blogging has actively continued on the site, no new videos have been published by Project Lore since July 27, 2009.
On March 1, 2010, an announcement was made that Project Lore was shutting down. Most of the bloggers from the site (and Juggynaut) have moved to Lore Hound.
Links
ProjectLore.com (former domain, taken down by DECA in 2010 and redirected to their site)