Scam School Book 1: Smoke
Jump to navigation
Jump to search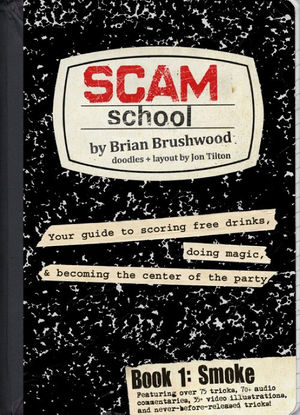 Scam School Book 1: Smoke is a book written by Brian Brushwood and designed by Jon Tilton. It covers many of the tricks taught in Scam School, but offered in a far more accessible tutorial form.
The book contains 336 pages and was published March 14, 2012.
Product Description
Win free drinks, impress the girl, and become the center of the party using over 80 tricks from the award-winning series Scam School! Scam School Book 1's media-rich format allows you to learn tricks with unprecedented depth, supported by hundreds of photos, over 40 videos, and 70+ audio commentaries... Scam School Book 1 is the most advanced magic instruction book created to date. Named a "Top Video Podcast" of 2008 and 2009 by iTunes, Scam School covers everything from street crime, cons, and hustles to bar scams, mind-reading, and magic tricks. This book is a collection of the very best tricks, hand-picked from over 200 episodes of the show. Imagine the eye-popping surprise on your friend's face when you summon smoke from nowhere... Or the shock on the girl's face when you READ HER MIND! Imagine knowing that in any bar, in any situation, you can be entertaining enough to spend the whole night drinking for free.... And best of all, Scam School Book 1 goes WITH you to the bar! Keep a copy on your smartphone, and you'll be able to review your tricks just seconds before performing them on your friends.
Reviews
Fun Facts
The book won Vook's eBook Creation Contest as Best Overall. [1]

The book was so well received that Vook featured it prominently after its initial release.
Links