Jon Tilton
Jump to navigation
Jump to search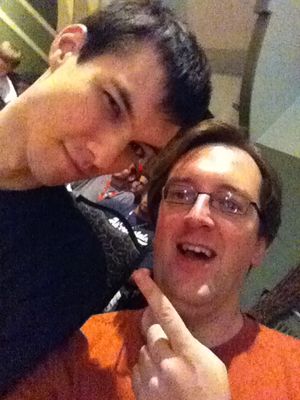 Jonathan Tilton is some sort of freak who doesn't like potatoes. He was also hired as Brian Brushwood's assistant following the departure of OMG Chad to TWiT. Jon was one of many male applicants considered for the job.
Biography
According to his Twitter bio, Jon studied interactive communication at Calvin College. He enjoys animation, comics & video games. He co-hosts @trendingcinema and loves sharing ideas & meeting new people.
Appearances
The first time viewers heard Jon was in an episode of NSFW. However, this was cut from the published episode.
The first time we saw Jon doing his job as Brian's assistant was the weekend of June 4, 2011. Brian and Jon went on a road trip to Beaumont, Texas so that Brian could perform his magic show for the Westbrook High School after-prom program, designed to keep kids safe by providing activities and entertainment all night long on the school campus, as an alternative to traditional after-prom parties. Brian and Jon live streamed the entire 30+ hour trip from their phones on Justin.tv, including nearly 10 hours of driving, but no sleep at all.
Fun Facts
Jon is from Doylestown, Pennsylvania.
Jon has a younger sister.
Jon once hosted a cooking show on Google+ called "In Brian's Kitchen" where he attempts to make a food item at two in the morning while a hangout full of Diamond Club members make fun of him.
Jon says he is 6'1", but no one believes him.
Jon is actually a nutritionist and suggests eating whole wheat pancakes for breakfast and then skipping lunch.
Jon is not good at backing up an SUV with a trailer full of magic-show gear.
Jon likes peanut butter pie.
Jon sometimes forgets to pack a jacket.
Links