The Professional's Guide to Fire Eating
Jump to navigation
Jump to search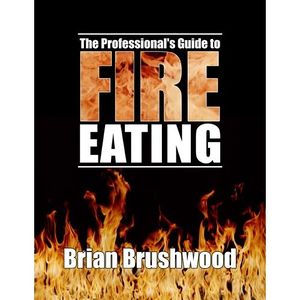 The Professional's Guide to Fire Eating is a book written by Brian Brushwood about (obviously) fire eating.
The book contains 172 pages and was published January 1, 2002.
Product Description
At last! Award-winning bizarre magician Brian Brushwood unveils the most complete explanations of fire eating to date! Nothing is held back in this volume. Learn exactly how the world's best working professionals EAT FIRE in this tell-all book, written in an easy-to-follow "how-to" format. This complete expose of fire eating methods features: 172 pages - 206 illustrations - 24 effects - 8 flourishes - PLUS sections on material safety, torch construction, health risks, tips for the working professional, the history of fire eating, and more!
Reviews
"It is a must buy for anyone interested in learning about fire eating." --Cody Fisher, Magician and MUM columnist
"The Professional's Guide to Fire Eating puts all other books I've seen on the subject to shame!" --C.J. Johnson, Magician and Hypnotist
"This is The Bible of fire eating books." --Dale K, Hypnotist
Fun Facts
Links