BBpedia
Jump to navigation
Jump to search

BBpedia was created to be the completely unauthorized and unofficial reference guide for the BBLiveShow, the best worst show on the Internet. However, literally days before BBpedia's official launch, Brian Brushwood, the host of BBLiveShow, announced that he was starting a new show called NSFW on the TWiT Network. That did not stop BBpedia and it still went forward even though it had a bbliveshow.info domain which referenced the older podcast.
Through BBpedia, people can learn more about the various projects of the hosts of BBLiveShow and NSFW, Brian Brushwood and Justin Robert Young. Site visitors can also go in depth and learn the origin of some of the catch phrases and inside jokes frequently referenced in the show.
This site is not intended to be a place to complain about the shows, hosts, or other fans. If you have a negative opinion about something, take it elsewhere. If you have a legitimate complaint, take it to the appropriate party. This wiki is a place of knowledge, not opinion, and as such we ask that everyone remain respectfully positive. TPIA.
However, Travis Lopes has still gone on record as hating BBpedia.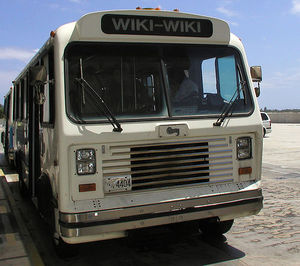 Site History
The site was created on November 19, 2009 by Patrick Delahanty and is powered by (but not affiliated with) MediaWiki.
On May 18, 2010, BBpedia expanded to include a forum called The CluBBhouse.
On February 15, 2011, MediaWiki on BBpedia was upgraded to 1.16.0.
On May 4, 2014, BBpedia became DCTVpedia.
April Fool's Day
On April 1, 2010, BBpedia was changed to JRYpedia.
On April 1, 2012, BBpedia was changed to VBpedia.
Domains