JuRY (Podcast)
Jump to navigation
Jump to search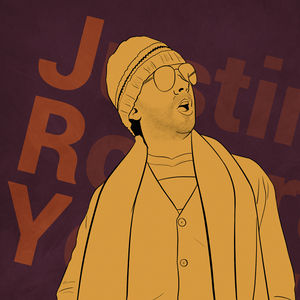 JuRY (also JuRY Talks, formerly known as JuRY Saturday and JuRY Friday), not to be confused with its eponymous show host, is a weekly morning live stream hosted by Justin Robert Young. The one-man show focuses mostly on video games, movies and pop culture, however unlike every other show in the BBverse, JuRY deals a lot with politics.
Justin started doing the show as an experiment, because he is fascinated by radio show hosts that can just talk to themselves for hours on the air and he wanted to see if he could do it too. The first episode was on March 23, 2012 and was very well received by the 60 or so live viewers, plus those who watched it later on the Justin.tv archive.
Show Format
The show is primarily a one-mic operation, however occasionally Justin will be joined by an in-studio guest. Justin starts the show with a song, followed by the intro song (currently "Alright By Mine" by The Possum Posse) and then intros the week's topics. Justin usually picks topics about which he is passionate or give him something to yell about. As he rants and raves, Justin is watching the chatrealm and (if they're interesting) integrates their comments into the show.
There are usually two or three main topics per show, usually lasting between 30 minutes to an hour. However, Justin is the sole-dictator on the show's content so he can do whatever he wants.
The show closes with "Na Na Na" by The Spinto Band.
WARNING! May Contain Politics

Main Article: Politics Politics Politics

Justin LOVES to talk about politics and the topic comes up from time to time (especially leading up to the election). Obviously, this can be a very contentious subject, so people will get upset and even feel the need to unfollow Justin on Twitter. There was a decent amount of hubbub when Justin filled out his ballot live on the show. Because Justin loves politics so much, on October 1, 2015 he launched the podcast Politics Politics Politics dedicated solely to politics talk.
Where to Watch the Show
As of November 2015, JuRY Talks is broadcast live at Diamondclub.tv on Sunday nights at 7PM Pacific Time. Justin will tweet out that he is going live about 10-20 minutes before hand, so make sure to follow him on Twitter.
If you missed the live broadcast, you can always subscribe on iTunes, or watch the archived video on the BBPediaVideos YouTube channel.
Links