The Power Hour
From DCTVpedia
Alright, seriously, the guys are playing a drinking game in this episode, but seriously, nobody in the world should ever do this, but you should definitely buy Ali's Power Hour Drinking Game.
Contents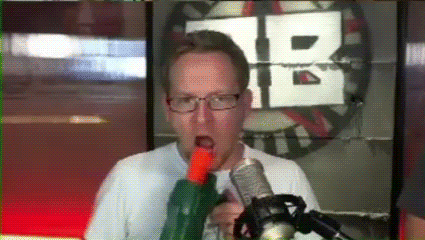 Opening Video
Power Hour Album
This is a very special episode- Brian, Justin and Brett are doing a live "Power Hour". If you don't know, a power hour is a drinking game where you take a shot of beer every minute for one hour. To help, the guys are joined by Ali Spagnola, creator of the Power Hour Album: an album of 60- one minute songs to go along with your power hour.
Controversy
"Power hour" is a term that has existed with frat bros for ages. But then there's this asshole... Steve Roose is this lawyer who is trying to stop Ali from selling her album because he feels that he owns the copyright for "power hour".
Sponsor
Go to Squarespace.com for a 14-day free trial and then use the offer code "NSFW3" when you sign on long-term.
Sponsor
Go to Netflix.com/TWiT for a 1 month free trial.
Congratulations, the End
Ugh... FINALLY! The show is over and nobody puked. You can find out more about the Power Hour Album at Ali's site, PowerHourAlbum.com and you can follower he on twitter- @AliSpagnola.
Summer Music Series
The guys tried to play Old John Smokey's cover of the end of show song, but unfortunately we ran out of time..
SouthXSoWasted
During the aftershow, the guys thought up and planned a party at SXSW for that friday. Previously, Ali was planning to fly into Austin on Saturday but the Chatrealm chipped in through PayPal to change her flight to Friday. Then Vincent404 called in on Skype and made arrangements with a local arcade on air to host a party for Chatrealm.
The plan:
Friday, March 9th
The GoGame scavenger hunt at 5pm in front of the 6th Street Alamo Draft House
Post-scavenger hunt party and Power Hour performance at Peckerheads at 7pm
Belt Winner
Great Quotes
"You're squealing. You're squealing like a man pig. Like some sort of Dr Moreau creature." - Justin
"Who's idea was it to put beer in these glasses." - Brett
"Alcohol is hard." - Brett
"Your life is a sad unfunny joke." - Justin

"And that's why we can't drink together." - Brett
Fun Facts
Brian and Justin were obviously drunk by the time they recorded the opening/billboards. For instance, instead of "March 6," Brian said "Brett 6" (also in reference to Brett suggesting buying March and renaming it after himself) and Justin's Squarespace billboard was heavily-slurred. Amusingly, Tony saw fit to not edit any of it out.
Tony DID, however, blur out Justin suggestively licking the beer bottle during the tease.
The opening title graphic has the year as 2011. Oops.
Adobeshops
YouTube
Episode
Aftershow
Links & Downloads