Ali Spagnola
From DCTVpedia
Ali Spagnola (born December 18) is a pop/rock/electro musician who is best know for developing a Power Hour Drinking Game Album and Concert: 60 one-minute songs that double as a drinking game released on a USB drive kept within a shot glass. She has also created several of the ringtones shipped on multiple Android phones.
Fun Facts
She created some of the ringtones on Android phones including Robots for Everyone.
She doesn't wear two shoes of the same color.
She shares a December 18th birthday with Giggleloop and Calliope.
She doesn't eat sandwiches
Appearances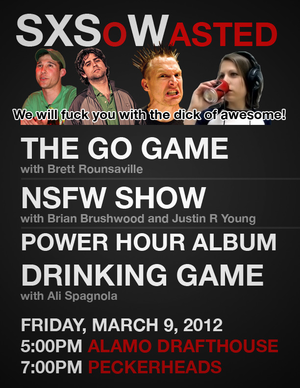 Early life and education
Ali was born in a town outside of Pittsburgh, Pennsylvania. At age three, Ali began studying dance taking tap, jazz and ballet classes. At age five she started playing the piano. Shortly after that she became a percussionist in her school band and then picked up the guitar and started taking voice lessons. When she wasn't being a music nerd she was being a computer nerd, making websites and designing graphics. Dancing became a big part of her life in middle school when she joined a dance company which she competed with all through high school. Near the end of her high school career, Ali took classes in musical theater at Carnegie Mellon University. She liked the school but decided to apply with a different major. Ali ended up going to Carnegie Mellon University studying Art. Her concentration was in sculpture and she also had a focus in Music Theory.
Free Paintings
Ali has been doing a project called Free Paintings for four years. She takes requests online via email about what she should paint. She fills one request a day creating a 12x12", bright, pop art, acrylic painting of whatever subject any stranger wants and posts it on her website. She then mails the painting to the requester for free. Requests are filled on a first come first serve basis and the wait list for a free painting is now about 900 people long. So far, Ali has completed over 1,900 paintings for the project and still continues to create one square foot of art a day.
Music
Ali has released four albums of music. Some of these songs have been featured on MTV's The Real World and Oxygen's Bad Girls Club. Her songs "Radiation" (also known as "Radiation by Spagnola"), "Robots For Everyone" and "Spagnola Orchestration" (sometimes titled "Radiation Orchestration") have been used as default ringtones on multiple Android phones. In December 2012, Huffington Post included her performance of "HuffPost Weird News" on their "End Of The World Playlist".
The Power Hour Drinking Game
In college, Ali started playing "drinking game concerts" that she invented by taking the idea of a "power hour" - drinking 60 shots of beer in an hour - and mixing it with a live show. She wrote 60 one-minute drinking songs and performed them live while people drank along with every song. Ali later recorded the songs to create The Power Hour Album. She also designed, developed and manufactured her new Shot Glass USB, a shot glass with a removable USB drive that holds The Power Hour Album.
Trademark controversy
In 2010, Steve Roose, who markets a DVD game named "Power Hour", registered a trademark of the same name and soon after began sending cease-and-desist orders to Ali Spagnola.
Spagnola announced her intentions to fight the claims, and an intellectual-property professor from the University of Pittsburgh stated that "if 'Power Hour' is a generic description of 'a drinking game that involves drinking a shot of alcohol each minute for an hour,' then Mr. Roose can't have any trademark rights at all."
On Dec 31st 2012, Ali won the case. "Bill and I were arguing that the term was "descriptive" as well as "generic". The court ruled that it was descriptive but not generic. Luckily we only needed one to win the case."
On March 22, 2013, she appeared on This Week in Law Episode #203, "Power Hour Pounding" discussing this controversy.
Discography
Ali Spagnola (2007)
Free of Style (2007)
The Ego (2010)
The Power Hour Album (2011)
Links