AnimeCons TV
From DCTVpedia

AnimeCons TV (formerly known as the AnimeCons.com Podcast) is a weekly podcast created by Patrick Delahanty and hosted by Patrick, Elizabeth O'Malley, Robert "Sketch" Scholz, Shiva, Doug "Nigoki" Wilder, Svetlana Chmakova, and other AnimeCons.com staff and contributors. It covers the latest news about anime and fan conventions and other topics related to conventions such as cosplay, anime music videos, and guest interviews.
Episodes
Main article: List of AnimeCons TV Episodes
First Four Seasons
The podcast began in January 2009 and new episodes were released on the first of each month through 2012. Each episode ran roughly 20 minutes. The format of a typical monthly episode was as follows:
Segment 1
Sponsor
Segment 2
Upcoming Conventions
Segment 3
Voice Mail, Q&A, or Commentary
Credits and Bloopers
Weekly Episodes
In 2013, the podcast went weekly, releasing new episodes each Monday. Unlike the monthly format, each episode focuses on a specific topic rather than having multiple segments like the monthly episodes had. Each AnimeCons TV episode from season 5 onward is an average of 10 to 20 minutes in length. Episodes are hosted by one or two members of the AnimeCons TV crew. Episodes with more than two people are very rare and usually saved for special occasions like the annual year in review.
In January 2014, the podcast celebrated 100 episodes. The 100th episode included congratulatory videos from former guests such as Brian Brushwood and Kyle Hebert.
AnimeCons TV Series Overview
Season
No. of
Episodes
Original air date
Premiere date
Premiere title
Finale date
Finale title
1
11
January 31, 2009
January 2009
December 1, 2009
December 2009
2
12
January 1, 2010
January 2010
December 1, 2010
December 2010
3
12
January 1, 2011
January 2011: Ten Largest Anime Cons of 2010 and Amy Howard Wilson
December 1, 2011
December 2011: Roland Kelts and The Year in Review
4
12
January 1, 2012
January 2012: Ten Largest Anime Cons of 2011 and Geoff Tebbetts
December 1, 2012
December 2012: Nekocon, Bakuretsu Con, and 2012 Year in Review
5
48
January 7, 2013
Ten Largest Anime Conventions of 2012
December 23, 2013
2013 Year in Review
6
48
January 6, 2014
Ten Largest Anime Conventions of 2013
December 22, 2014
2014 Year in Review
7
48
January 5, 2015
Ten Largest Anime Conventions of 2014
December 21, 2015
2015 Year in Review
8
48
January 4, 2016
Ten Largest Anime Conventions of 2015
December 19, 2016
2016 Year in Review
9
48
January 2, 2017
Largest Anime Conventions of 2016
December 18, 2017
2017 Year in Review
10
48
January 1, 2018
Largest Anime Conventions of 2017
December 17, 2018
2018 Year in Review
Fun Facts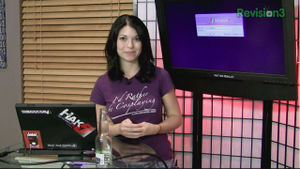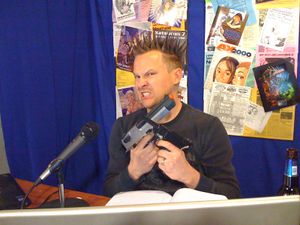 Other than four pre-planned "vacation" weeks per year, the podcast has not missed a single release date since going weekly in January 2013.
Although the podcast is titled "AnimeCons", it has often covered topics outside of anime conventions and reported on conventions that are not anime conventions. However, the podcast has not been renamed again out of fear of losing viewers, because renaming podcasts (and YouTube channels) is a pain in the ass, because "AnimeCons.com" still has very high name recognition in the anime convention community, and because we can't think of anything better than "FanCons TV"...which doesn't sound great.
The current album art features mascot art created by Svetlana Chmakova.
In episode 518 of Hak5, Shannon Morse wore an "I'd Rather be Cosplaying" T-shirt from AnimeCons.com.
The 12th episode of NSFW was shot with Brian in the AnimeCons TV studio. Four members of the AnimeCons TV cast and crew were in the live studio audience.
The "The Most Annoying Person in the World" Cup, Slower and Creepier, and Tub Treats episodes of NSFW and the Framerate Alpha 2 and Spoiler Alert Plaid episodes of Frame Rate were also shot in the AnimeCons TV studio, but with no studio audience.
There was a Scam School sticker on the backdrop of the AnimeCons TV set in Newton, MA. This was pointed out in the 50th episode.
Brian was interviewed at PortConMaine and appears in the July 2011 episode of AnimeCons TV and in a separate interview post.
In the Chatrealm Podcast Awards for 2012, AnimeCons TV was voted 2nd in "Best Podcast" behind NSFW.
The AnimeCons TV studio in Newton, MA closed in April 2013 when Patrick moved to Petaluma to work for TWiT. The podcast continues, but no longer has its own studio.
Brian appears in the 100th episode of AnimeCons TV. Bonnie can be heard laughing.
Shannon Morse appears in episode 602, episode 817, and episode 835.
DJM, Petey Rave, and Brandon Cooper appear in episode 622 to report on Anime Central.
Episode 814 is actually TWiT Live Specials episode 278 with PadreSJ.
Starting in 2015, segments from the first four seasons (during the longer, monthly episodes) are occasionally being re-published individually as standalone episodes. These "AnimeCons TV Rewind" episodes are not published more than once per month.
Links