Frame Rate
Jump to navigation
Jump to search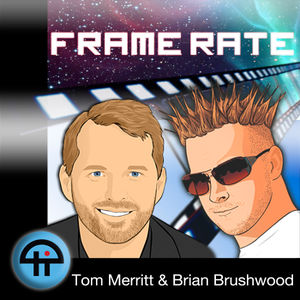 IIIITTT'S FRAME RATE!!!
Frame Rate was a podcast in which Tom Merritt and Brian Brushwood discuss films, TV, and anything else of related interest. Brian has described Frame Rate as "The show about cord-cutting, hosted by two guys who really like the idea of cutting the cord, but haven't gotten around to it."
Since Tom left the TWiT network in late 2013, Frame Rate ended in January 2014. It has been succeeded by Cordkillers.
Originally running as a series of tests going as far back as June 8, 2010, the show eventually went from alpha to beta to golden master with the premiere episode airing on November 9, 2010. The show aired live on the TWiT Network Mondays at 6:00 pm ET (3:00 pm PT).
Show Format
Extremely exciting film/TV news
Somewhat less exciting but definitely still cool film/TV news
Only somewhat exciting but definitely kinda cool film/TV news
Probably Not Such a Big Story Since It's Our Fourth Big Story
Film/TV news still worth mentioning but not worth spending much time on
Discussion of news regarding streaming services
Discussion of set-top boxes and news pertinent to them
Discussion of content, including both television and film
Interferon (is no longer an active segment)
Discussion of the viral videos of the week
Brian and Tom scan the headlines, only spending up to 60 seconds per story
Movie Draft / Premiering This Week
A quick rundown of the movie draft results and content that premieres that week
Discussion of the entertainment the hosts have watched over the course of the week
Brian and Tom answer emails sent in by the listeners at [email protected]
Brian and Tom discuss something openly and freely with full spoiler disclosure at the end of the episode
Fun Facts
Each Segment had an opening bumper video made by a member of the Chatrealm.
Links