Tom's Beard
Jump to navigation
Jump to search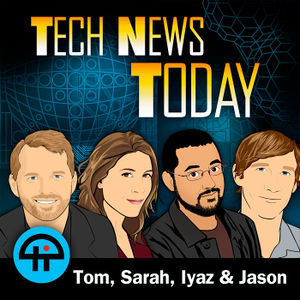 After leaving CNET, Tom Merritt decided to grow a beard, partially as a throwback to Conan O'Brien. Much like Justin's beard, Tom's beard developed a following and even became self-aware enough to tweet. However, UNLIKE Justin's beard, Tom has never shaved his beard off entirely, only trimmed it.
Oddly enough, the album art for Tech News Today features a clean-shaven Tom as opposed to bearded Tom. Tom has yet to appear on Tech News Today without a beard.
For the final episode of Buzz Out Loud (April 5, 2012), Tom shaved his beard. Entirely.
Relax
In NSFW #26, Justin pitched a video of Tom's beard set to "Relax" as the next new Rick Roll. Brian immediately tried to compare Tom to Radiohead's Thom Yorke. Both of them ended up getting booed by the chat room.
Beard Power Grab
On Tuesday, September 9, 2010, Geekosphere101 wrote to NSFW and Tech News Today to share his conclusions made after the announcement that Jason Howell was joining TWiT. This e-mail was read on the air by Tom after that day's TNT recording had ended. (It is not in the episode.) The concept of Tom trying to take over TWiT was first conceived during The Trials of King Leo.
The Letter
Date: Tue, Sep 7, 2010 at 3:18 PM
Subject: Tomas Merriiiitt as the Usurper: Why you guys were right
To: [email protected]
Dear NSFW,
So the news just broke on the Twitters that Jason Howell will be joining TWiT and TNT.
This is getting out of control. Look at what Tom has done. First, he joins TWiT himself, launches a highly successful show, and brings two powerhouse co hosts in Sarah and Becky. Sarah has been co hosting other shows as well, and it is rumored that Becky will be getting more involved at TWiT.
He slowly works his way into other shows, taking over hosting duties for Leo when he was on vacation, bringing some more podcasts to the network or at least streaming them live on twit (such as the new show FrameRate or some of the excellent podcasts from the frogpants network). This only increases his exposure and fame in the TWiT kingdom.
Next, he brings over his wife to "produce" (read: control) Leo's shows, limiting his power.
Now, with the addition of Jason Howell, I fear the end is near. I urge you NSFW, to limit Jason's power on the network. If you give him too much access, he will slowly take over TWiT's technical operations, leaving Tom in complete and utter control of the network.
The one common factor? Tom's beard. Think about it. His beard must have been enchanted. Ever since he began growing it, his power at TWiT has been growing uncontrollably. Someone must shave it off of him before its too late! Hear me TWiT, before it's too late!
The End is Nigh! All Shall Fear the Name of Tomas Merriiiittt!!!!!1
LONG LIVE KING LEO!!!!!!!!!!!!!!!!!
-Geekosphere101 in the chat
P.S.- S-S-S-S-S-SOLID SNAKE
Links