Tech News Today
Jump to navigation
Jump to search
Tech News Today
Created by
Tom Merritt
Hosted by
Megan Morrone and Jason Howell
Opening theme
Dan Lueders
No. of seasons
1
No. of episodes
1864
Runtime
30 to 60 minutes
Production
Producer(s)
Megan Morrone and Jason Howell
Writer(s)
Megan Morrone and Jason Howell
Camera Switcher(s)
Kara Kohl
Editor(s)
Kevin King
Broadcast
Distributor
TWiT
Original Run
June 1, 2010 - September 29, 2017

Tech News Today is a podcast from the TWiT Network which is broadcast every weekday. The podcast was hosted by Tom Merritt and a rotating cast of co-hosts including Sarah Lane, Iyaz Akhtar, Darren Kitchen, Scott Johnson, Becky Worley, and Dr. Kiki. Jason Howell ran the tricaster during the show (which he currently hosts now), though on rare occasions John Slanina would sub for him.
During Tom's era, each episode would "take you on a fun and friendly ride through the need-to-know tech news highlights of the day." In each episode, they would run down the top tech news stories, mention other headlines in the "news fuse", and take a look at the calendar.
Mike Elgan went on to take over hosting duties of the show on January 2, 2014 from Tom Merritt, whose last show was December 30, 2013. Jason C. Cleanthes ran the tricaster during the show after Jason Howell. Mike Elgan left the show December 7, 2015 to focus on his writing and world travels. His last show, one of several pre-recorded holiday specials, was released December 31, 2015.
Megan Morrone and Jason Howell formally took over hosting duties on January 4, 2016 and brought the original TNT theme music back to the show. Their first guest was Tom Merritt.
The show ended its daily run on September 29, 2017 due to "difficulties of selling ads on a daily podcast". Although it was originally going to be straight-out cancelled, it was saved from this fate when Jason and Megan transformed the show into "Tech News Weekly".
Fun Facts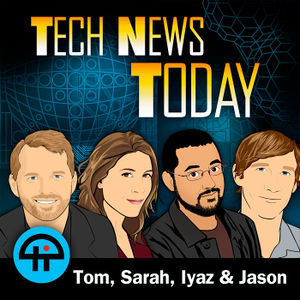 The first episode was broadcast on Tuesday, June 1, 2010.
As of June 21, 2011, Tom had only missed 14 episodes of Tech News Today.
Although the album art originally featured a clean shaven Tom, he has had a beard in almost every episode.
The episode on Friday, February 2, 2011 was sponsored by MailRoute and Tom suggested people look on YouTube for NSFW's ad read which was done in Chatrealm's Choice by Justin Robert Young. Sarah Lane said it was funny.
NSFW #72 was an homage to Tech News Today and met with high praise from Tom.
Tech News Today was subject to the eponymous #freeTNT hashtag and its respective bit in NSFW's FreeTNT episode.
Tom Merritt's last show was December 30, 2013. Tom would go on to host a new daily tech news show podcast called, Daily Tech News Show.
Tom returned for a guest appearance on January 4, 2016.
Appearances
Brian and Justin would pop up on Tech News Today from time to time:
External Links