Typewriter Underpants Adjustment
From DCTVpedia
Iyaz joins the show to go through the trial by fire.
Contents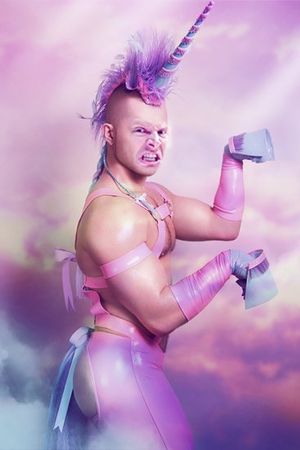 Pre-Show
The show was delayed a little over 30 minutes by TWiT's NAB coverage so there was a very lengthy pre-show. Most of the time, they discussed how pink Brian is; many adobeshops ensued. View The Gallery
Opening Video
A clean version of "What Makes You Sad" by Andrew Bancroft.
That Can Be My Next Tweet or Lil' Wayne
There is a new service called That Can Be My Next Tweet that looks at all of your previous tweets and creates what it thinks would be an appropriate tweet from you; the results are usually non-sense. So for this game, Iyaz will need to guess whether the tweet was automatically generated by a computer, or from Lil' Wayne.
1) "Treasures are meant to be found" vs. "Having a flashback episode. You're not impossible. Probably not."
Iyaz guesses the 1st was Lil' Wayne
CORRECT
2) "Love is selfless" vs. "Actually, that's a bookstore"
The answer was accidentally revealed on the video version. So the question was asked to the audio listeners.
3) "True fans,today like you. I am not a human being...even if you already have. I'd surely appreciate it." vs. "Getting to kidnap Mets fans? 4823 Recorded before them, we'll have 20 minutes to me."
Iyaz guesses the 1st was Lil' Wayne
CORRECT
What is Iyaz Watching?
Iyaz needs to explain to the audio listeners what is going on in this video. After expertly explaining the video he was challenged to guess the title of the video.
Guesses
"Dancing old man drinks too much"
"Mailman rocks the pavement slowly"
"The effects of beer on the elderly"
Actual Title "Grandpa gets way more ass than you do"
Sponsor
Justin has a brand new webzone at HipsDontBreak.Squarespace.com, where he just signed a contract with the newest YouTube sensation, Grandpa Getswaymoreassthanyoudo.
Go to Squarespace.com/NSFW for a 14-day free trial.
Breaking News
Brian and Justin have created some breaking news headlines for Iyaz to report on. And I know what you are thinking, "What was that awesome video that they were playing in between all of the news reports?" Well here it is.
SPECIAL REPORT!
Report: dangerously irradiated components from Japan affect iPods, iPhones, iPads & naked lady pens. Officials recommend extreme caution.
The Winklevoss twins have successfully combined their powers in the form of an Ostrich.
Myspace has locked out all new users and has flash re-branded themselves as a place reconnect with your friends in 2006... and only 2006.
Best Buy manager arrested for forcing prospective customer to do The Bernie before taking an iPad 2 out of storage.
Steve Jobs does a cartwheel.
Wilklevostrich closes massive $37 million first round of funding for new mobile social network focused on booking the Winklevostrich at birthday parties for children.
New Champion! Woo!
Great Quotes
Fun Facts
The Skypeosaurus crashed during the Breaking News segment, which did not effect the final podcast recording.
Adobeshops
YouTube
Episode
Aftershow
Links & Downloads