Now Apologizing Convention Attendees
Jump to navigation
Jump to search
Brian is live from Giggleloop's basement along with Kuhan to play some But Cuba! oh and we ruin Brian's career forever...
Contents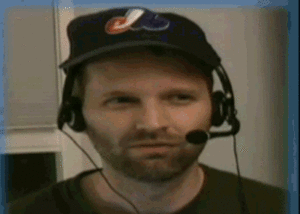 Opening Video
#NACA2011
Brian is in St. Louis for the NACA convention where performers go to meet with colleges to get booked for performances. So this year, NACA organized a twitter hash tag (#NACA2011) for everyone to use. So now all of Chatrealm is being unleashed on Twitter to talk about all of the amazing things that they saw Brian Brushwood doing. See all of the Adobeshops here.
IMPORTANT NOTICE Things got a little out of hand, so please don't spam #NACA2011 anymore! Don't even apologize on the #NACA2011 hashtag...just stop using it completely! (...although after the conference ends, it won't really matter anyway.)
but Cuba
Originally called "Lost in Translation", the game was renamed after the infamous "but Cuba" line that came from the first time they played the game.
"Debate amongst peers"

Read in the voice of : A 1950s era British aristocrat.
Brian's Guess: The Rent Is Too Damn High guy (correct)
"A sad state of affairs"

Read in the voices of : A gruff plumber who lives in the Bronx, C-3PO, and Gumshoe.
Tom: Bed Intruder (correct)
"Culture"

Read in the voice of : Shaggy (of Scooby-Doo fame).
Brian: Ms. Teen South Carolina (correct)
Brian wins!
Sponsor
JuRY hates all the merpeople in the sea so that's why he created MerMurder.Squarespace.com
Go to http://Squarespace.com/nsfw for a 14-day free trial.
Squarespace.com Presents: Change of Plans
The NACA 2011 Twitter bit totally fell apart during the Squarespace read when Brian got texts and a phone call from his agent telling him to stop the tweeting. The NACA folks were getting annoyed. This situation was frighteningly similar to the SXSW GDGT party where Brian encouraged people to take advantage of the large Twitter screen which soon filled up with 8===D.
So instead of going through with their third bit, they decided to deal with this new very real problem. Somebody even made ChatrealmIsSorry.Squarespace.com.
However there is a positive side to this whole ordeal; during Brian's live meltdown, he became the #1 worldwide trending topic on Twitter.
At about 3am EST, Brian started a Justin.tv livestream and revealed all was well and it wasn't as bad as he feared.
New Champion! Woo!
Brian for becoming a world-wide trending topic
Great Quotes
"Am I on speakerphone?" - Brian's agent
Fun Facts
Before this episode, Twitter was one of the last sites that chatrealm was unable to successfully game.
Tom Merritt wore 51 different hats from the pre-show to the end of the show.
In case you missed it, the name of the episode is a reference to NACA.
Brian broadcast from Giggleloop's basement.
Kuhan was present during the recording of Frame Rate, but had to leave to drive friends home from a wake. He returned halfway through this episode.
During last year's NACA conference in Boston, Brian broadcast The Life and Times of Chat Roulette from Patrick Delahanty's studio.
Adobeshops
YouTube
Links & Downloads