The Second Annual 2009 GTFO Awards
Jump to navigation
Jump to search
This episode is a sequel to The GTFO Awards.
Contents
Opening Video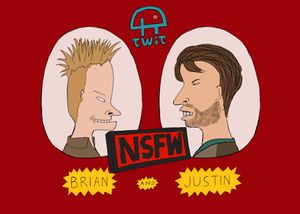 The ChatRealm
A small group of chatties got together to make dozens of adobeshops for a new Squarespace site.
The Chatrealm (specifically Josh Hilp) has written some fan fic about NSFW called DIAF. So Justin and Brian decided to read it audiobook style and release it as a podcast. At the date of recording, it was #4 in literature podcasts on iTunes.
The GTFO Awards
Past Winners
Celebrities:
Jay Leno
Christopher Coppola. Never again.
Lindsay Lohan (And her Mom and Dad as well)
Oprah Winfrey (also any of her demon spawn shows ie Dr. Phil and Dr. Oz and her network)
Robert Pattinson WINNER

Musicians:
Ke$ha
Gaga (But not Melissa, whose will shall be done.)
Justin Bieber
Miley (She's pretty much gone at this point)
Nickelback WINNER

Books:
Twilight
Daemon
DIAF (cant win the GTFO though )
____ For Dummies / Idiot's Guide to ____
Whatever is on Oprah's book club WINNER

Mains:
Andrew Mayne WINNER
USS Maine
Mainstream Media
University of Maine
Mane (Line of hair along the neck)
Sponsors
A repeat of the Squarespace ad from The NSFW Christmas Spectacular inserted by Tony Wang. (Did not appear in the live episode recording.)
Justin asks what you would do if your hands were replaced by crab claws. You would terrify your family and you can't use door knobs. However you can still use your Ford Sync!
Go to SyncMyRidePodcast.com
New Champion! Woo!
Andrew Mayne
Amtrekker, for being a good sport about Andrew's ribbing. He won the gold medal in our hearts.
The Chatrealm, for literally coming up with 90% of the episode
Great Quotes
"You honor me" -Andrew Mayne
"Stop petting the emo" - Justin
Fun Facts
The Squarespace ad read is repeated from The NSFW Christmas Spectacular and was not in the live recording.
Tony Wang dubbed his name into the episode at the start of the GTFO Awards segment. Brian had stated that the GTFO Awards started when Jesus died, but Tony censored Jesus's name with his own.
Adobeshops
YouTube
Preshow
Episode
Aftershow
Links & Downloads