DIAF
Jump to navigation
Jump to search
Perhaps you were looking for Die in a fire and not this podcast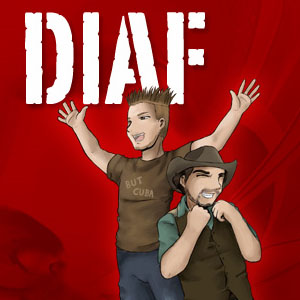 DIAF is a series of audiobooks presented in podcast format. Written by members of Chat Realm, DIAF stories follow the adventures of Brian Brushwood and Justin Robert Young.
The DIAF series was originally conceived and written by Josh Hilp, but Brian has called for contributions from all fans who are interested in writing a series of five chapters at a time.
Show Format
Each audiobook begins with either Brian or Justin opening up the chapter stating their names and the author of the chapter. They then proceed to read the chapter word-for-word in various voices and accents. Sometimes Justin mispronounces words. For example, he may say microwave instead of microphone or slut instead of shut.
Late on December 28, 2010, Brian announced that he would record a chapter every night, for the rest of his life, if they are available.
Characters
The named characters of the story (in order of appearance) are:
Places
TWiT Cottage - The place where the story begins. This is where Brian and Justin meet with Leo Laporte and find the doorway to...
Chatrealm - The city in which most of the supporting characters reside and where the bulk of the story takes place
The Bar - Run by Giggleloop, this is where the characters often congregate
4Chan - Chatrealm's neighbors to the east with whom they often enter disputes
The Library - The building in which Patrick Delahanty is found
Links