Chat Room
Jump to navigation
Jump to search
The inimitable Chat Room (also known as Chatrealm) has often been said to be the writers of much of the absurd shit that appears on Diamond Club TV. They are a dedicated group of content producers brought together by magician and entrepreneur Brian Brushwood, comedian and journalist Justin Robert Young, and Internet jack-of-all-trades Tom Merritt. Frequently over the line and immature, the Chat Room consists of the best and worst that Diamond Club TV has to offer.
...except for Kuhan. He's always the worst.
Rules
The chat room is hosted on Diamond Club's Chatrealm IRC network. The main chat room is #chat. For other chat rooms, the rules may vary depending on who mods that room/channel.
Brief History of Chatrealm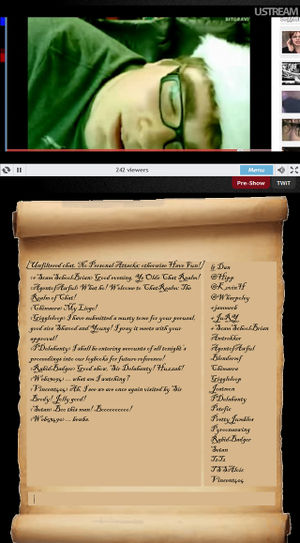 During Scream Queens vs Zombie President, the chat room was accidentally referred to as "the chat realm". They went with it.
After that, "Chatrealm" became the term used to refer to fans of NSFW who are in the IRC chat room as they watch. Fans who also join in on unscheduled broadcasts are referred to as Diamond Club.
Over the years, the term "chatrealm" has started to be used to refer to people in the chat room of other TWiT shows with "Diamond Club" being used as the term often used to differentiate fans of NSFW.
IRC Bots
dctvbot/kenbot
showbot
showboat
Retired Bots
BSTVBot
moderaptor
See Also