Roberto Villegas
Jump to navigation
Jump to search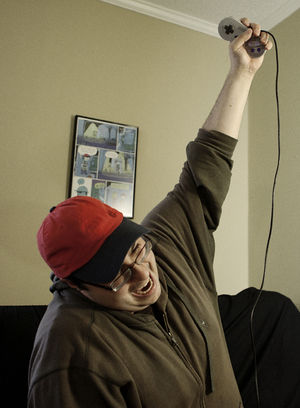 Roberto Villegas, or vincent404, is the host of My So Called 8bit Life where he talks to random geeks about something completely and utterly random. He has been a member of Chatrealm effectively since its infancy, and has become a steadfast pillar in the community.
Since Scam School episode 302, Roberto has become a regular member of the crew. He is largely held responsible for audio production.
Podcasts
Roberto and Brandt Hughes record audio commentary tracks for various movies and the occasional fresh out of theater reactions to recent films.
Roberto and Bryce Castillo talk the gamut of gaming topics from in-depth discussion to commentary on the news surrounding the gaming world.
Roberto interviews various personalities from communities he's passionate about.
Roberto provides in-depth analysis of classic games.
Roberto, Erica Torres, and Rick Foster review movies, talk about Hollywood news, and give commentary on the world of film in all its form.
Appearances
Fun Facts
Links
Social Media