A Giant Bang
From DCTVpedia
MISSION ACCOMPLISHED! WE DID IT! 200 EPISODES. Brian, Justin and (for a little while) Bonnie look back at their first 200 episodes.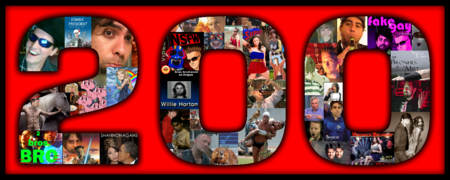 Contents
Opening Video
DayMan….. It's Always Sunny in Philadelphia
Holy Crap Man… 200 Episodes
Who knew that they would make it 200 episodes? Brian and Justin look back at some memorable moments from their first 200 episodes, however they spend a long time watching watching Episode 1.
Other talking points:
Sponsor
ProXPN
Go to ProXPN.com/TWiT and use the code "NSFW" to get 20% off the lifetime of your account. That's less than $5 per month! GOOD DEAL! YOU TAKE!
Hover
For 10% off your new domain names visit Hover.com/nsfw and use the offer code NSFW.
The Worst Frame of NSFW
Over the course of 200 episodes, there have been about 25 million frames of NSFW and it was the Chatrealm's duty to find the weirdest or most awkward screencap from the show.
Finalists
Sponsor
Go to Squarespace.com for a 14-day free trial and use the offer code "NSFW10" to get 10% off your first order.
200th Episode Tribute
This video was put together by Weirdami. It's amazing. Watch it
Takin' Calls
Since they have nothing else planned, they decided to take some calls for the rest of the episode.
Callers
Ryan Alcott
Tess - She got a date from the time she called in to the show and it was horrible.
JC - His favorite thing from NSFW was when he helped write The Diamond Club. He wrote "Cupcake Tryst"
Ryan
Brandon
Bill Meeks - His favorite thing was the Zombie President episode.
ZombieJesus
Kuhan!!!!!!!!!!!!!!!! - He vanished from the Chatrealm because he's too busy gettin laid.
Ev
Taylor
Jeremy
Matt
Justin
Paul
Justin - "Ohh, shit"
Benjamin
Becky akaGiggleloop
Cattlehumper
Ryan
Brendan - PIZZAAAAAAAAAAAAAAAAAAAAAAAAA!
Aftershow
In the aftershow, Brian and Justin broke down the music video for the song "City of Crime" featuring Tom Hanks and Dan Aykroyd from the movie "Dragnet".
Belt Winner
Justin from the Chatrealm
Great Quotes
"Ya know what happened in 1994? Kurt Cobain killed himself." -Justin
Fun Facts
In this episode, Brian and Justin STRONGLY hinted that Joke and Biagio had a new project in the works.
YouTube
Preshow
Show
Aftershow
Links & Downloads
Torrent links can be found in the following article: NSFW#Download