Chad Johnson
Jump to navigation
Jump to search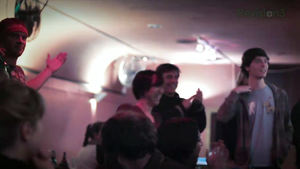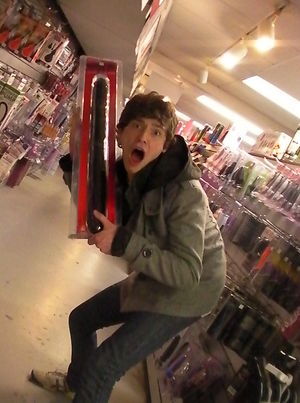 Error creating thumbnail: File missing
Chad Johnson, also known as OMG Chad, was born April 14, 1989. He is best known as a YouTube personality associated with Mindcrack, host of the popular web series OMGcraft. Chad was a full-time host and producer at TWiT from 2011 to 2014. Prior to his work at TWiT, Chad was Brian Brushwood's assistant from December 2009 through Spring 2011 (succeeding Mike Galante). Brian periodically referred to Chad as his "Young Ward".
Works
Active
Chad posts videos daily related to Mindcrack, Garry's Mod, and other stuff!
Chad brings you the latest in Minecraft: new tips, tricks, and stuff you should know.
Chad and Dick DeBartolo showcase useful, unique and sometimes silly gadgets and gizmos.
Discontinued
Co-hosted with his brother, the two discuss life.
Chad and Lamarr Wilson talk about the week's YouTube-related news, viral videos, and discussions.
Chad and Sarah Lane recap the week's best stories, memes, AMAs, and more from Reddit.
Tenure at TWiT
On Friday, March 18th, 2011, less than a week after Chad assisted with the live TWiT programming at Momo's in Austin for SXSW, Brian Brushwood confirmed via Twitter that Chad would be leaving his side and beginning a new chapter in his life working for TWiT. This announcement was immediately followed by tweets from Chatrealm wishing Chad good luck...and other people considering trying to follow in Chad's footsteps as Brian's next assistant.
Chad started at TWiT on June 1, 2011 as an Associate Producer in charge of live events. Soon after joining, Chad began training to act as Technical Director (TD) as needed. Chad eventually took over the producer and/or TD roles for the following TWiT shows:
From late 2011 until April 11, 2012, Chad served as director and editor for Game On!.
Starting August 2012, Chad began recording the OMGCraft Podcast. The last episode released by TWiT was #198, Spotlight: Sim City in Minecraft. Chad has taken the OMGCraft brand with him, and is continuing to produce Minecraft-related videos.
With Lamarr Wilson, Chad co-hosted This Week in YouTube for its 35-episode run, from April 15, 2013 to December 16, 2013.
Chad started co-hosting The Giz Wiz in episode #1450, Phantom Laser (released January 8, 2014). Chad continues to co-host The Giz Wiz with Dick DeBartolo.
With Sarah Lane, Chad co-hosted RedditUP during its nine-episode run, from July 30, 2014 to September 24, 2014.
Post-TWiT
Chad was informed on Monday, October 28 that he was being let go from his full-time position at TWiT, while being kept on as a consultant to co-host The Giz Wiz.
On Tuesday, October 29, Chad began publicizing his Patreon page, as a way for his supporters to contribute directly. As of November 24, Chad has $1,315.61 in pledges per month from 383 patrons.
Around October 31, Chad announced that he had joined the Mindcrack Network of content creators. Chad had already been involved with Mindcrack as the host of the Mindcrack Weekly Recap, starting with the April 11th-18th episode.
Chad continues to release videos on his YouTube page daily.
Appearances
Chad debuted on the Internet in 2006 with his YouTube channel which featured fan-made Lemon Demon music videos and an extensive vlog. In 2011 he transitioned to another channel to host his infrequent personal updates.
Chad's first Scam School appearance was in episode 38, A Few Pennies for a Beer!, where he submitted a viewer question to Brian about "Little Brushwood" and when Brian got into magic. After getting the job of Brian's assistant, he first appeared during the TWiTWars!!! episode of BBLiveShow and the NSFWTF episode of NSFW. In the Betterlection Day episode of NSFW, Chad was accused of doing unspeakable things such as murdering Jonny Zavant to get his job. He has been credited as a Creative Consultant in most of the Scam School episodes during his run as Brian's assistant.
Chad has also been referenced in the following cold opens:
Introduction Video
OMG Fails
On April 18, 2010, Chad mistakenly deplaned in Denver, Colorado rather than staying on his plane to continue with Brian to Sacramento. The mistake was documented in two posts to Twitter.
During New Show Fails Weekly, which was broadcast from Greg Grunberg's home, Chad accidentally spilled soda on Greg's pool table. Greg was quite forgiving about it and even gave chad an autographed Heroes script. The autograph reads, "Chad- Thanks for soiling our pool table..." Greg's name was not visible in the photograph posted to TwitPic.
Fun Facts
Chad is secretly the long lost son of C.J. Johnson.
The period of time between Chad working for Brian and Chad starting at TWiT has been referred to as "Chad's Gap".
Unlike Jonny Zavant and Mike Galante, Chad is right-handed.
Fans of Chad are known as Chadics.
Chad has swallowed 16 inches:
Links